Ready for your next trip to Africa? Why not visit Namibia? Known for its stark landscapes, arid deserts and plentiful wildlife, Namibia is the ideal spot for the luxury safari getaway of your dreams. Here are our top 10 luxury lodges in Namibia (plus a bonus one!)
(Originally written in May 2017, this post was last updated in April 2021)
1. Kulala Desert Lodge, Sossusvlei
Sossusvlei, with its towering red sand dunes, is one of the iconic places to visit in Namibia, and Kulala Desert Lodge is so close by. One of Namibia's top tourist attractions, Sossusvlei has the tallest sand dunes in the world. Set amidst these giant red dunes, this lodge has a total of 23 chalets named 'kulalas' which means 'to sleep' in Oshiwambo (a Namibian dialect). Each kulala has sleep-out decks on their roofs so you can take in the vast, desert skies. No visit to Namibia would be complete without a stop at Sossusvlei, and the Kulala Desert Lodge is ideal.
Why we love it: The lodge is the closest point of access to the iconic Sossusvlei dunes.
2. Little Ongava, Etosha
Designed for privacy, exclusivity, and luxury, Little Ongava is also extremely close to the famous Etosha National Park. Set on a high hill inside the Ongava Game Reserve, the lodge has panoramic views over Namibia's plains. Meander through the plains on wooden boardwalks that lead over rocks and trees, to the main lounge and dining area from one of three secluded thatched bungalows. Each bungalow feels homely with a fireplace, sitting room, private deck, infinity pool and 'sala'. It's pure indulgence indoors, surrounded by untamed nature outdoors.
Why we love it: Easy access to Etosha National Park.
3. andBeyond Sossusvlei Desert Lodge, Sossusvlei
Surrounded by the mountains and sand dunes of the Namib Desert, Sossusvlei Desert Lodge offers a complete escape from everyday life with its sheer silence, total tranquillity and romantic luxury. From stargazing to intimate picnics in the desert, this is an extraordinary wilderness to experience. Nestled deep in the heart of Namibia's ancient Namib Desert, the serene oasis overlooks dunes and stony outcrops. This is a world of vast spaces, endless horizons and rugged mountain heights, and the extraordinary clarity of light makes this area one of Africa's most compelling landscapes.
Why we love it: Hot air ballooning over Sossusvlei and Sesriem Canyon.
4. Little Kulala, Kulala Wilderness Reserve
Situated in the private 67 000-acre Sossusvlei Reserve, this luxury desert lodge has 11 air-conditioned thatched kulalas which merge impeccably into the desert landscape. The kulalas each have a rooftop star bed, private plunge pool, and glass walls to let in those incredible desert views. Little Kulala's interiors make use of neutral colours and textures and natural light.
Why we love it: Stargaze directly from your bed.
5. Hoanib Skeleton Camp, Western Namibia
Remote and rugged are two words that best describe Hoanib Skeleton Coast Camp, which sits in a valley where two tributaries of the dry Hoanib River meet. If viewed on a map, its location straddles the Palmwag area and the iconic Skeleton Coast National Park in the Kaokoveld area.
The camp consists of seven large tents and one family unit, each with a stylish bedroom with an en-suite, and a shaded outdoor deck. Flanked to the east and west by rugged hills, the camp looks over stunning, starkly beautiful scenery. It offers all the luxuries and amenities for an unforgettable stay.
Why we love it: The only access to the lodge is by light aircraft, which means you start and end your stay with amazing views.
6. Serra Cafema Camp, Hartmann Valley
Imagine listening to gurgling river rapids but you're in a desert. A surreal experience! The luxury lodge, Serra Cafema, is found in the extreme northwest of Namibia on the banks of the Kunene River. Set under shady albida trees, this intimate camp is inspired by the area's Himba people and has a mix of rustic and luxurious elements. Eight riverside wood, canvas and thatched villas look over elevated decks for exceptional views. The indoor and outdoor dining areas, sunken lounge, library, curio shop and swimming pool all share views of the lush Kunene River.
Why we love it: The camp has a both desert and water experiences.
7. Wolwedans Private Camp, NamibRand Nature Reserve
Imagine that the Wild West was transported to Namibia, and that is what you experience at the Wolwedans Private Camp. Wake up surrounded by nothing but purple-tinged mountains and rolling, soft yellow grass plains. There are no houses, towns or people in sight. You spend your days in the 'sala' having lazy siestas, sunbathing on one of the decks, or relaxing in the study, living room, dining area or kitchen. From every open-plan room, you can see the wide expanse around you. This is pure relaxation.
Note: Wolwedans Private Camp suffered a flood and is rebuilding. It is due to reopen in August 2021, as of writing.
Why we love it: Complete privacy. Pure, desert tranquility.
8. The Fort, Onguma Game Reserve Etosha National Park
The Fort at Onguma Game Reserve is unlike any other luxury accommodation, and the perfect spot to stop on any visit to Namibia. Here, you can pretend to be a sultan in the Namibian desert. Built on just the right spot to fully experience the epic sunset, the property overlooks the salty Etosha Pan and is made up of massive raw brick walls, stone cladding and features its own tall tower (with views toward Etosha and Fisher's Pan). There are surprises at every corner. The lodge has a bespoke African feel combined with a touch of Moroccan and Indian flavours with antique windows and doors.
Why we love it: Dramatic Afro-Moroccan design, and unique luxury.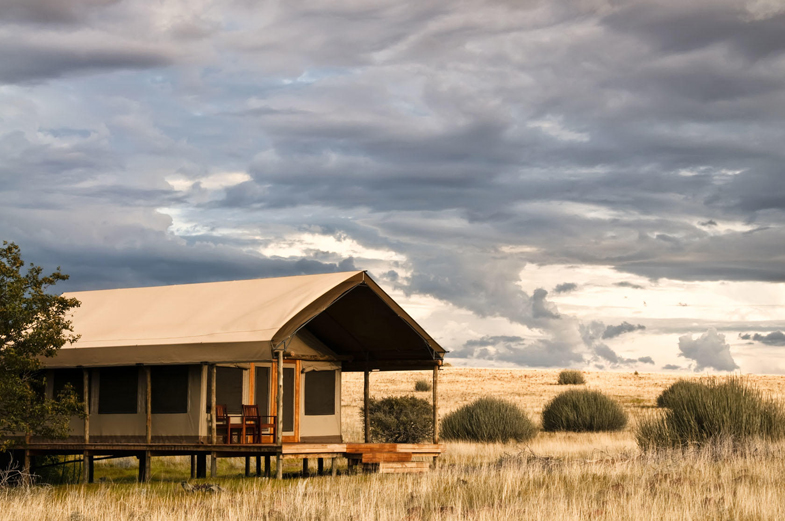 9. Desert Rhino Camp, Palmwag Concession
The Desert Rhino Camp lies in the rolling, rocky hills of the 450 000-hectare Palmwag Concession. This region is marked by tranquil, minimalist beauty, and the largest free-roaming black rhino population in Africa. Set in a wide valley, the eight raised Meru-style canvas tents with front verandas take in views of ancient welwitschia plants, and the dramatic Etendeka Mountains. The luxury camp has a comfortable dining and lounge area that is also elevated with partially open sides for panoramic views, while a swimming pool provides a refreshing respite.
Why we love it: Evening meals are often served around the fire pit under star-studded skies.
10. Skeleton Coast Flying Safaris, Skeleton Coast Park
The Skeleton Coast is a remote area filled with stark beauty waiting to be discovered. Shipwrecks litter the beaches between Swakopmund and the Angolan border, which gives this piece of desert land its striking name. As there's little accommodation available here, we recommend doing a flying safari with the family-run Skeleton Coast Safaris.
Ranging from 3 to 5 days, the route takes you from Windhoek along the coastline up to the Kunene River (the northern border of Namibia) where you'll stop over at camps and remote lodges. Expect to see over 250 bird species, hyena, Cape fur seals, jackals, gemsbok, kudu and springbok as well as desert-adapted elephants, and so much more.
Why we love it: The light aircraft takes up to 8 passengers and can hop between remote beaches, camps and private airstrips.
11. !Xaus Lodge, Kgalagadi Transfrontier Park
!Xaus means 'heart' in the indigenous Nama language. Run by the bushmen of both the ‡Khomani San and Mier communities !Xaus Lodge is about real, sustainable tourism. Overlooking a large salt pan in a heart shape, this remote lodge will let you experience life in the Kalahari, guided dune walks, game drives and buy crafts from the Bushmen village.
A unique living space, the lodge's lounge has a fireplace, a large observation deck perfect for stargazing, a refreshing swimming pool, and a fire pit in the boma.
Why we love it: Eco-tourism at its finest, and the beauty of silence.
Visit Namibia: Tours & more…