Ready for your next trip to Africa? Why not visit Namibia?  
Known for its stark landscapes, arid deserts, and plentiful wildlife, Namibia is the ideal spot for the luxury safari getaway of your dreams.  
Read on to discover our top picks for the 10 dreamiest luxury lodges in Namibia. 
This blog was originally published on May 15, 2017. It was updated on June 20, 2023. 
Kulala Desert Lodge, Sossusvlei
Sossusvlei, home to the tallest sand dunes in the world, is one of the most iconic places to visit in Namibia, and Kulala Desert Lodge is so close by. Set amidst the attraction's giant red dunes, this lodge has a total of 23 chalets named 'kulalas', which means 'to sleep' in Oshiwambo (a Namibian dialect). Each kulala has a sleep-out deck on its roof, so you can take in the vast desert skies. No visit to Namibia would be complete without a stop at Sossusvlei, and the Kulala Desert Lodge is an ideal base. 
Why we love it: The lodge is the closest point of access to the Sossusvlei dunes.
Little Ongava, Etosha
Designed for privacy, exclusivity, and luxury, Little Ongava is also extremely close to the famous Etosha National Park. Set on a high hill inside the Ongava Game Reserve, the lodge has panoramic views over Namibia's plains. Meander through these plains on wooden boardwalks, leading over rocks and trees, to the main lounge and dining area from one of three secluded luxury villas. Each villa feels homely with a fireplace, sitting room, private deck, infinity pool, and 'sala'. It's pure indulgence indoors, surrounded by untamed nature outdoors. 
Why we love it: Easy access to Etosha National Park. 
andBeyond Sossusvlei Desert Lodge, Sossusvlei
Surrounded by the mountains and sand dunes of the Namib Desert inside a Sossusvlei Private Desert Reserve, Sossusvlei Desert Lodge offers a complete escape from everyday life. From stargazing and helicopter rides to intimate picnics in the desert, this is an extraordinary wilderness to experience – a desertscape of sand, stones, stars, sustainability, and silence. The lodge features 10 stone and glass suites, each with air conditioning, a shaded veranda, and a private plunge pool. The bonus is the retractable skylight above your bed, allowing you to sleep under the stars without sacrificing any of your creature comforts.  
Why we love it: Hot air ballooning over Sossusvlei and Sesriem Canyon.
Little Kulala, Kulala Wilderness Reserve
Looking for barefoot desert luxury? Situated in the private 27,000-hectare Kulala Wilderness Reserve, Little Kulala has 11 air-conditioned, thatched kulalas, merging impeccably into the sprawling desert landscape. Each kulala has a roll-out bed on the shaded deck and a private pool for lazy afternoons soaking up the abundant sunshine. The lodge is also 100% solar-powered and features an onsite spa perfect for an indulgent pamper session in between nature drives and quad biking adventures.  
Why we love it: Scenic hikes through the Sesriem Canyon.  
Hoanib Skeleton Camp, Western Namibia
'Remote' and 'rugged' are two words that best describe Hoanib Skeleton Coast Camp. The camp rests in a valley where two tributaries of the dry Hoanib River meet. If viewed on a map, its location straddles the Palmwag area and the iconic Skeleton Coast National Park in the Kaokoveld area. 
The camp comprises seven large, tented suites with twin beds, and one spacious family unit, each with a stylish bedroom, en-suite bathroom, and a shaded outdoor deck. Flanked to the east and west by rugged hills, the camp looks over stunning, starkly beautiful scenery. 100% solar powered, it offers all the luxuries and amenities for an unforgettable, sustainable stay. 
Why we love it: The only access to the lodge is by light aircraft, which means you start and end your stay with amazing views. 
Serra Cafema Camp, Hartmann Valley
Imagine listening to gurgling river rapids… in a desert! A truly surreal experience that you can look forward to when staying at Serra Cafema Camp. The camp lies in the extreme northwest of Namibia, on the banks of the Kunene River. Set under shady albida trees, this intimate camp is inspired by the area's Himba people and has a mix of rustic and luxurious elements. Settle into one of eight riverside wood, canvas, and thatched villas, each with an elevated deck (equipped with a welcoming hammock!) for exceptional views. The indoor and outdoor dining areas, sunken lounge, library, curio shop, and swimming pool all share views of the lush Kunene River. 
Why we love it: The camp offers both desert and river experiences, including boating and quad biking. 
Habitas Namibia, Khomas Region
Habitas Namibia exudes the essence of Namibia. It's a remote haven perched on a rocky hilltop, hidden away within a 51,000-hectare private reserve. Known for their panoramic views, the lodge's 15 lavish savanna rooms each come with a plush double bed, an inviting daybed, and a viewing deck. Looking to recharge? The lodge is famous for its wellness program, comprising Thai and Swedish massages, traditional Himba treatments, and sunrise yoga.  
Why we love it: The three-night immersive Creativity Unbound experience – perfect for anyone who loves combining nature with the arts.  
Desert Rhino Camp, Palmwag Concession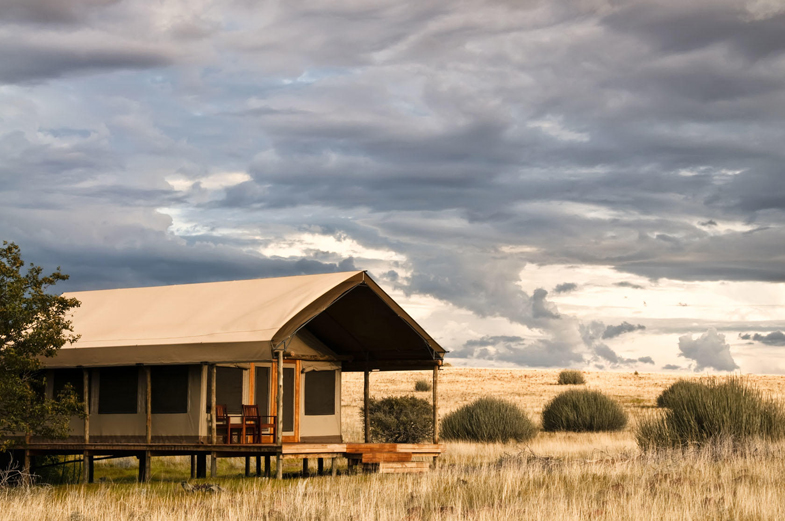 The Desert Rhino Camp lies in the rolling, rocky hills of the 450,000-hectare Palmwag Concession. This region is marked by tranquil, minimalist beauty, and the largest free-roaming black rhino population in Africa. Set in a wide valley, the eight raised Meru-style canvas tents with front verandas take in views of ancient welwitschia plants, and the dramatic Etendeka Mountains. The luxury camp has a comfortable dining and lounge area that is also elevated with partially open sides for panoramic views, while a swimming pool provides a refreshing respite. 
Why we love it: Rhino trekking alongside knowledgeable guides.  
Shipwreck Lodge, Skeleton Coast
The Skeleton Coast is a 310-mile remote stretch of coastline famous for shipwrecks that litter its glistening beaches. Shipwreck Lodge opened in 2018 and is the first and only permanent lodge in the Skeleton Coast National Park. The lodge boasts eight twin cabins and two family cabins, each designed to resemble a shipwreck. The cabins all have their own viewing deck and fireplace. Along with relaxing in luxury, you can look forward to various adventures nearby, including sundowner drives, sandboarding, river excursions, and over-the-top beach lunches. 
Why we love it: Its ultra-exclusive location.  
!Xaus Lodge, Kgalagadi Transfrontier Park
While technically in the South African sector of the Kgalagadi Transfrontier Park, !Xaus Lodge borders Namibia and Botswana, making it the ultimate choice for enjoying a combo getaway. Run by the bushmen of both the ‡Khomani San and Mier communities, !Xaus Lodge is about authentic, sustainable tourism. Relax in one of 12 chalets or bring the kids along and spend a few nights in the family unit. Along with enjoying the many amenities, you can gear up for guided dune walks, game drives, and shopping for crafts in the village.  
Why we love it: Eco-tourism at its finest, and the beauty of silence. 
Visit Namibia: Tours & more…