In the world of travel, it's easy to become just another tourist, a transient observer passing through a destination without leaving any meaningful impact. But what if travelling could be more than just a leisurely escape? What if, with every journey, you could contribute to the heart of a community, bringing positive change and growth?
Enter GILTEDGE. It's our mission to enrich lives through innovative and sustainable travel experiences, partnering with various travel suppliers and organizations that share our core values. The Uthando initiative is one of those partners, embracing the rise of 'voluntourism'.
What is Uthando?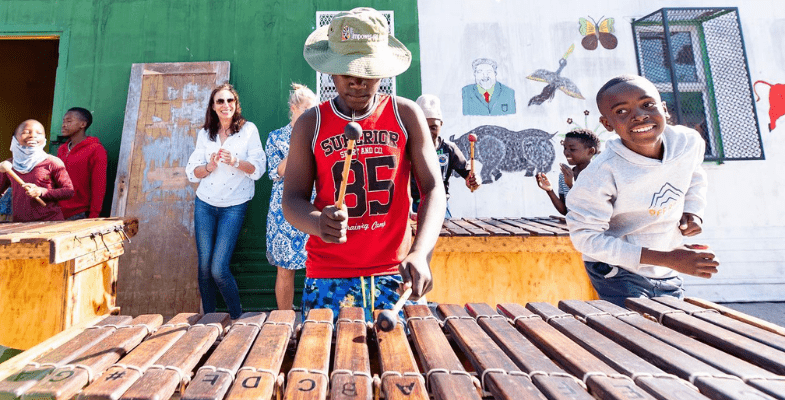 Uthando isn't just a non-profit; it's a movement – a vehicle for change. It's a unique and award-winning model of travel philanthropy and a Fair Trade-certified company rooted in responsible tourism. Instead of being passive visitors, Uthando transforms tourists into active contributors, bridging the gap between local and international South Africa-focused travel agencies and numerous community development projects.
When you choose GILTEDGE as your travel companion, we're happy to pair you up with one of Uthando's many heartwarming projects, allowing you to travel with a purpose, actively participate, and uplift the communities you visit.
Uthando has created and supported many projects, from agriculture, food gardens, education, and housing to HIV/AIDS awareness and even arts and cultural initiatives. Take, for instance, the Pebbles Project: This incredible initiative supports over 1,400 children in the farming communities of South Africa's Western Cape Province. Or Thokozani, a haven in Khayelitsha Township, where at-risk children find safety and education. These are just glimpses of the transformative work Uthando is doing.
What to expect?
Along with encouraging travellers to volunteer their time and skills, Uthando organizes tailor-made philanthropic educational excursions, offering a special opportunity to explore South Africa's townships. During these visits, the team highlights exceptional community development initiatives that contribute to the transformation of South Africa from the ground up.
Through its tours, Uthando tells the stories and history of South Africa, including its challenging past. The team discusses the pressing issues the local population faces and showcases a sense of inspiring optimism fueled by dedicated grassroots leaders who are making a positive impact. Uthando conducts all tours with authenticity, depth, respect, and a focus on community benefits, ensuring a meaningful and non-disruptive experience.
Reading through Uthando's reviews on TripAdvisor paints a clear picture of the experiences that await travellers:
"We had a fantastic tour with Uthando and would highly recommend it. We took our children, who are 13 and 12 and visited a pre-school, garden and choir group. It was a very valuable experience for our family. Uthando is doing amazing work to help the townships."
"A wonderful outing, filled with meaning and passion. The exposure to the good work of Uthando touched our hearts and strengthened our belief in what people can do to improve their lives. The van was comfortable, and the driver James very articulate in explaining the social conditions. It was a very revealing trip, one which gave deeper meaning to the human side of the country. Not mainstream tourism, but extremely touching and inspirational."
"Spending a day with Uthando was one of my favorite days in South Africa. It was insightful and inspirational. James and his team are doing an incredible and equally difficult job to bring resources, hope and joy to the townships. It's humbling to see what the goodness of a human heart paired with action can do. Additionally, I have learned so much more about the history and current political and social climate from Jason's expert narration. This experience is truly authentic and MUST DO. Thank you to the entire Uthando team for taking me on this incredible journey."
Sustainable tourism: the future we need
Sustainable tourism is imperative in a world grappling with climate change, social inequities, and dwindling resources.  It's about preserving the very essence of the places we love to visit and ensuring they remain for generations to come. Uthando's approach is a beacon in this journey, showcasing how tourism can be a force for good.
By supporting organizations like Uthando, we aim to promote a brand of tourism that respects both the environment and the community. As you explore South Africa's beautiful landscapes, you're also weaving a tale of hope, love, and community. Your journey becomes part of a bigger narrative of empowerment, growth, and positive change.