The decision has been made − it's officially time to take that bucket-list family safari. But with that one decision comes a hundred doubts. What's the best way to plan the perfect once-in-a-lifetime trip with your kids? Will they get bored? And then there are the vaccinations that may be required. At GILTEDGE, we always hear these questions, so we will lay out the basics and share a little insider knowledge on how to best plan your first family safari.
Choose the right time for your trip
African safari destinations are perfect for families with school-aged children. Kenya and Tanzania are fantastic destinations for the southern African winter months (June through August), with temperatures ranging from 70 to 80°F (21 to 26.5°C) during the day and chilly mornings and evening temperatures.
If you are planning an African trip during the December vacation, you should visit further south because the closer you get to the equator, the more humid and muggy it gets during the summer season. When it comes to the Great Migration, timing is everything. August is the best time to visit the Masai Mara National Reserve.
Choose the right destination
Africa is a vast continent with so much to offer that deciding where to go on a family safari can be difficult. It really depends on what kind of experience you are looking for and how much time you have available. An excellent place to start is either East Africa or Southern Africa, which are very different from each other.
If you have about a week to 12 days, you can comfortably explore one country, but if you want to see multiple countries, you'll need at least two weeks. If you are travelling with children, be sure to choose hosts, guides and activities that are age-appropriate and interesting for them.
Don't focus on the countries themselves, but consider what activities your family will enjoy. This way, you can find a family safari destination that perfectly fits your family's interests. And if you're worried about trying to fit in too much, plan your adventure within one country. That way, you can take a more relaxed pace and enjoy all that your chosen destination has to offer.
First-time safari tips: Tell your trip planner as much as possible about your family (and their quirks and interests). The more they know, the more personalised your trip will feel. Happy kids make for happy parents!
Choose the Right Accommodation
Choosing the most suitable accommodation can make all the difference in having a wonderful family safari experience! There are a variety of options, from camping to luxury lodges. For families with young children, we recommend accommodations that offer family rooms or rooms with connecting doors, but also check if your host can accommodate extra beds in rooms. The sounds of the African night outside the room mean kids may want to be close to you.
If your kids love to swim and play, consider lodges with a swimming pool, play area and a children's programme. Grumeti Lodge in Tanzania has an incredible kids' programme called WILDChild, as does the Londolozi Varty Camp in South Africa. We suggest spending at least four nights at each safari camp to make sure your little ones feel more comfortable. This will give them enough time to adapt to the new environment and people.
Consider the age of your children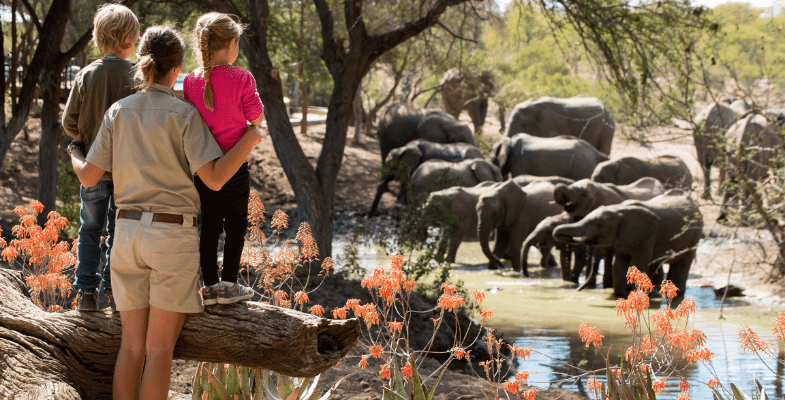 Some safari camps have age restrictions and only accept children five years and older. So if you have younger children with you, look for camps that are happy to accommodate them. The good news is that most camps don't charge for accommodation for children under five, so you'll only have to pay for park fees and flights.
It's also worth considering which activities are suitable for your children. While some things might be great for older kids, they might not be ideal for younger ones. For example, game drives can be long and tiring, so you may want to look for a lodge that offers shorter game drives or has a more family-friendly programme.
And, of course, there are childminders to consider. Most camps will provide babysitting services so your littlies can skip the early morning game drives − and you can enjoy spa treatments, private dining, and even sleeping under the stars.
If your kids are a little older, plenty of exciting options exist! How about a walking safari, a hot-air balloon ride, or a horseback ride?
The not-so-fun part
We understand that before going on a family safari to Africa, many of our clients have concerns about their health and what vaccinations they may need. We recommend that everyone visit their doctor or local travel clinic before departure for personal advice.
Since everyone is unique and has different health needs, having a health check and talking to a doctor before travelling is very important. They can recommend specific vaccines and malaria prevention based on your individual circumstances, such as pre-existing conditions or allergies. If you're concerned about malaria, one of the best safaris for first timers is the malaria-free Madikwe Game Reserve.
While yellow fever vaccination is mandatory in some countries, and you will need proof of immunisation to cross the border, many other vaccines are strongly recommended for other areas.
A family safari in Africa can provide an exceptional experience for people of all ages, but it requires a certain level of expertise and thoughtful preparation. When these factors are in place, you can rest assured that your African safari will ignite a love for the natural world and offer an unforgettable adventure for the entire family.
So why not start planning your family's ultimate safari experience today?
Take your pick from this selection of family-friendly safaris we've put together, or get in touch, and we'll create a unique experience to match your family's needs.