As much as we love inspiring others to travel across Africa, we still enjoy seeing our favourite continent for ourselves! Recently, our Product Manager Charlotte had the privilege of visiting Botswana on a FAM trip hosted by Golden Africa Safaris with the help of Mack Air and Helicopter Horizons.
The group ventured from the stark Makgadikgadi Pans via the game-rich Moremi Game Reserve and onwards to the Okavango Delta. Here's Charlotte's first-hand account of the experience:
The magic of Makgadikgadi
Accommodation highlights in the Makgadikgadi were Natural Selection's Jacks and San Camp, which capture the style and glamour of a bygone era. We also had the once-in-a-lifetime opportunity to spend time with local San bushmen, who taught us about their ancient culture and helped us hone our hunter-gatherer skills.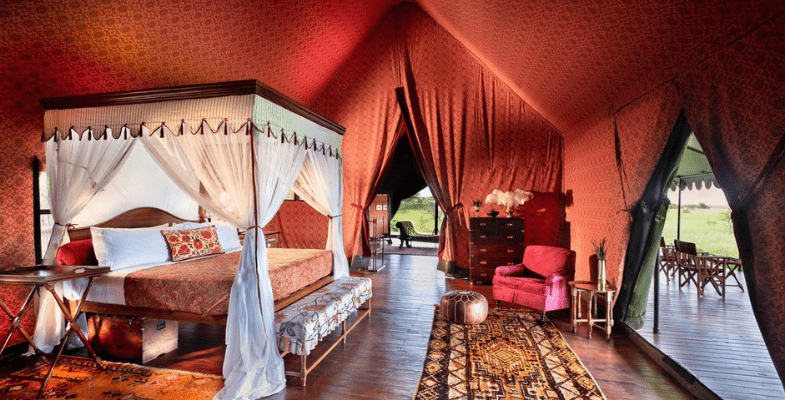 While exploring this mysterious lunar-like landscape, we followed black-backed jackals across the stark pans and gazed in wonder at the most magical sunset staining the horizon with a blood-orange hue. Just before dawn, we were woken by a soft knock on the door and a gentle prompt to come and catch the sunrise – a spectacle well worth waking up early for, particularly for that cup of Amarula-infused coffee! While this moment was tough to top, I must say having an inquisitive meerkat sitting on my lap was an unforgettable encounter during our time here. The camps closely manage and monitor the habituated colony, which proves a highly raved-about highlight for their guests.
Part of the Kalahari Basin, the real magic of Makgadikgadi lies in its minimalism and nothingness, which adds a whole new dimension to any itinerary in Botswana.
Moving through the Moremi  
Our next stop on the itinerary was a private roving camp under a shady grove of trees deep in the Moremi Game Reserve. Hosted by Rob and his attentive team at Golden Africa Safaris, this experience is best described as glamping at its finest.
With guided game drives topping the agenda, we eventually lost count of all the lions we encountered (over 50 in five days!). I also loved our sundowner stops in the vehicle (a throwback to those car bar days), where we could maximise sightings seated up high while minimising any risky encounters with wildlife.
Overall, the Moremi is magnificent, with golden plains dotted with herds of grazing wildebeest. We learnt many new interesting facts from our dynamic guide, Moa, who knew the area like the back of his hand. That said, the entire team on the ground catered to our every wish and whim, treating us to a surprise bush lunch and interactive map session, which were definite highlights for us. As we gathered around a crackling campfire without a phone or laptop in sight, we greatly appreciated the time we had to reconnect with nature, ourselves, and each other.
Onwards to the Okavango Delta
On our way to the Delta, we embarked on a scenic helicopter transfer to Machaba's Gomoti Plains Camp, located on a private concession. Consisting of 10 spacious and comfortable suites, it ticks all the right boxes for families and corporate groups.
Once there, we enjoyed a heavenly massage – much needed after 10 days of travelling. This was done right in the comfort of our tent deck by the wonderful Rachel, with the soft chorus of birdsong all around us.
Our group also appreciated the community dining style by lamplight beneath the stars. We had a front-row seat to the rolling views over the Gomoti, with memorable sightings of elephants ambling across the plains and a pride of lions with two-month-old cubs.
Next up was a stay at the luxurious Machaba's Kiri Camp, where you don't need to leave your bed for game viewing! Located in a private concession, we could make the most of off-road and night driving to enhance game-viewing opportunities. The best part about this camp is the double offering of land and water activities, and we thoroughly enjoyed gliding along the channels amongst the water lilies. We also appreciated the change to slow things down and get closer to the water, where we discovered the smaller creatures of the bush, from tiny frogs to a thin bright green snake tangled amongst the reeds. Our coffee stop (with Amarula, of course!) was arranged on a small island where we could listen to the call of a fish eagle and bask in the early morning sun – heaven on Earth!
After a spectacular flight to the Shakawe airstrip, we made our way to Xaro Lodge by boat, our final stop of the FAM trip. This lush and tranquil oasis in the far north of the panhandle proved the perfect end to our unforgettable trip.
During our stay, we cruised up the lazy, winding Okavango River, stopping to watch white-breasted bee-eaters hollow out their nests along its banks. This region of Botswana is a bird lover's paradise with more than 350 species recorded, including Pel's fishing owl (which we also saw) and African skimmers. We also managed to keep our distance from the largest crocodile I have ever encountered – six metres was the estimate! We also locked eyes with a curious hippo who popped its head out to see what we were doing.
Fly, our river guide expertly weaved us water-lily necklaces and crowned us 'Queens of the Okavango'. This moment was made extra special with an incredible pink and blue sunset as our backdrop and a crisp G&T in hand.
Exploring Tsodilo Hills
We also had the opportunity to explore Tsodilo Hills on foot. This UNESCO World Heritage Site, meaning damp earth in the local Ju/' hoansi language, dates back 100,000 years and is one of the most historically significant rock-art sites in the world.
On our final night, we fell asleep rather quickly, exhausted by the thrill of each day. As we drifted off to a background chorus of frogs and the grunting of hippos, we knew that there was no better way to end an exceptional trip of incredible and varied landscapes, magical experiences, wonderful hosts and new friends made.
A heartfelt thank you goes out to Golden Africa Safaris, Natural Selection, Machaba Safaris & Xaro, Mack Air and Helicopter Horizons for hosting the 'six lionesses of The Golden Pride'. We can't wait to return!
If you're looking for that perfect itinerary through Botswana, contact our team. We've experienced all the best places in Africa first-hand, and our GILTEDGE travel experts are always here to help.