Wild animals are notoriously difficult to photograph: they're unpredictable, many are nocturnal or stick to the cover of the dense bush!
The photographers below are at the top of their game; some spending months camped out in remote locations, not satisfied until they capture those images that stand out and make you take notice. And the results are nothing short of spectacular!
Greg du Toit 
Greg du Toit's captivating photo "Essence of Elephants" took top place in the coveted BBC World Wildlife Photographer of the Year competition (2013). Shot from a ground level hide at a waterhole at Botswana's Mashatu game reserve, this unique image represents for him the special energy that he feels around elephants.
A dedicated photographer, Greg is known to go to extreme lengths to get his shots. He once famously spent months wallowing in the soup-like water of a shallow waterhole in his quest to photograph the free-ranging lions of Kenya's Great Rift Valley. His patience paid off with captivating eye-level images of a pride drinking.
Greg studied Nature Conservation, and started his career as an apprentice guide at Timbavati Reserve, The knowledge and tracking skills gained during this time have proved invaluable to his wildlife photography. Greg's photographs have been exhibited around the world, and he has been contracted as an expedition manager by National Geographic. He uses photography to share his passion for Africa and its wildlife: "people will only protect the things they love. And I think the role of wildlife photographers is to make sure people are appreciating these wild animals so that they will be conserved".

(Left) Twilight Leopard – young female leopard, in South Africa's Sabi Sand Game Reserve
(Right) Wild Lion – Maasai-owned community land

Essence of Elephants (winning image in 2013 BBC World Wildlife Photographer competition) 
Frans Lanting
Frans Lanting has received an enviable number of awards including top honours from World Press Photo, the Sierra Club's Ansel Adams Award, and the title of BBC Wildlife Photographer of the Year. His photographs have appeared in numerous books and magazines, and his 'Into Africa' exhibition is currently showing at The Smithsonian's National Museum of Natural History (in Washington DC).
For the past two decades, Frans has worked with his wife and partner, Chris Eckstrom; a writer, editor and videographer. They met through a mutual friend when Eckstrom was a National Geographic staff writer, and together have documented wildlife in remote locations from the Amazon to Antarctica.
Frans creates images that tell a story: "There's an interaction that goes on between animals and myself. It's not as simple as sitting there and aiming a large telephoto lens from a great distance. Ultimately, you have to be able to express things in a way that is lyrical and poetical, or else it's just a record."

Cheetah family, Acinonyx jubatus, Masai Mara National Reserve, Kenya

(Left) Trophy hunters reflected in eye of dead zebra, Equus quagga, Okavanga Delta, Botswana
(Right) African elephant at dawn, Loxodonta africana, Chobe National Park, Botswana
Michael Poliza
Michael Poliza's career as a wildlife photographer began when he sold his IT company in 1997, and set off on a 3-year round-the-world voyage. The goal of this expedition was to document the state of the world's wild, hard-to-reach places at the turn of the millennium. The expedition developed an avid following, and led to him publishing his first book: "Die Reise der 'Starship'.
In 2002 the German photographer moved to Cape Town, and for the next four year spent much of his time in game reserves photographing wildlife. The result was his hugely popular photographic book 'Africa', and since then he has published a number of beautiful coffee table books including 'Eyes Over Africa' – the unique aerial images taken on an 8-week helicopter trip from Hamburg to Cape Town.

The portrait of a lion king

The marching desert elephants and their shadows (Damaraland, Namibia)
Andy Rouse

British wildlife photographer Andy Rouse has won a string of major awards including the prestigious Cherry Kearton Medaland Award presented by the Royal Geographical Society. He has published 18 photographic books to date; his book "Tigers: a Celebration of Life" has raised over £9,000 for tiger conservation, while a percentage of the profits of his latest book "Gorillas: Living on the Edge" will go towards the conservation of endangered mountain gorillas.
Andy's talent in photography stems from a passion for wildlife and the environment. He is an expert in field craft (animal tracking, interpreting signs etc) and is known for getting up close to Africa's potentially dangerous predators in his quest to capture images that highlight the beauty of the natural world. He regularly gives lectures and talks, and has appeared on numerous television programmes including his popular 13-part series "Wildlife Photographer".

Cheetah teaching her youngsters to hunt a Thomson gazelle fawn, Masai Mara

A solitary Masai giraffe in a magnificent sun burst ("Nature's Best Photography Awards")
Jonathan & Angela Scott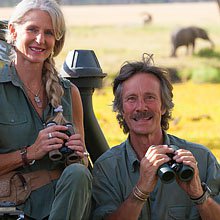 Jonathan and Angela Scott are multi award-winning wildlife photographers, and the only couple to have individually won the Overall Award in the Wildlife Photographer of the Year Competition (Jonathan in 1987 and Angie in 2002). Based in Kenya, they divide their time between their home in Nairobi, and a cottage at Governors' Camp overlooking the plains of the Masai Mara.
Although they see themselves first as wildlife photographers, they have written numerous bestselling books including Jonathan's 'The Marsh Lions' (1982). Jonathan has also presented a number of wildlife programmes for the BBC, Animal Planet, Discovery Channel, Paramount TV and Turner Broadcasting – most famously the 'Big Cat Diary' series.
Together the Scotts strive for images that share their wonder and awe at the uniqueness of our world; its people, animals and wild places. Through their photography, they hope to create a greater understanding of conservation issues; as well as inspire the younger generation to pick up a camera, travel and explore the infinite possibilities of their mind and their world.

Male lions threatening one another; Masai Mara, Kenya

Male impala guarding a herd of females; Masai Mara, Kenya 
Featured Photographic Safaris
Get your own National Geographic shots: 3 nights in Victoria Falls, one of Zimbabwe's most photogenic places, then a water-based safari on the Chobe River, a game safari in the Selinda reserve, and topping it off with the beautiful Okavango Delta.