Our Africa Travel Expert, Robyn Leatherby, recently visited South Africa's Northern Cape with Northern Cape Tourism. She stayed at Rogge Cloof and visited some fossil fields, participated in cheetah tracking and visited the last volcano in South Africa. Here's what she had to say:
I was lucky enough to be invited by Northern Cape Tourism to join their trip to Rogge Cloof, situated in South Africa's Northern Cape just outside Sutherland in the Great Karoo. This area is famous for its starlit nights, wide-open spaces, dramatic landscapes, and snowy winters.
Rogge Cloof dates to 1756 and is located at an altitude of between 1400 and 1700 metres. When we arrived, there was a massive storm overhead – dramatic thunder clouds, lightning and heavy rain, which is always so welcome and much needed in the Karoo. Though welcome, it it, unfortunately put a stop to all activities that day, but we had time to enjoy our accommodation and watch the storm.
Visit South Africa's Northern Cape: About Rogge Cloof
Rogge means rye, and kloof (spelt 'cloof' in their name), means ravine. The name comes from the wild rye which was once plentiful in the area; directly translater it is "rye ravine". Rogge Cloof offers both catered and self-catering accommodation and we stayed in the Orion Suites, some of their inclusive suites, which are spacious with a fireplace for cosy winter nights and glass-fronted with a view over the veld and the sky at night. The self-catering cottages are also cozy, featuring fireplaces, incredible views, and glorious isolation.
Finding Fossils & Exploring the Region
The next morning, we set out to South Africa's Northern Cape Permian Age Fossil Field. This was a fascinating trip with fossils dating back to dinosaur times. Sam, our guide, was very knowledgeable and gave an interesting talk on the fossils. We then set out into the Fossil Field itself to look for fossils for ourselves; it is easy to imagine how the landscape must have been alive with dinosaurs and pareiasaurs in this ancient land. Anyone interested in palaeontology would love it here!
That afternoon we set out on a hike, and the Rogge Cloof all-lady guide team showed us the wonders of the Karoo's fauna and flora. The Karoo is a vast, semi-arid region characterised by scattered rocky outcrops interspersed with shrubs, herbs, and grasses. Each plant has a story to tell and serves a purpose in this harsh, barren region.
Visiting the Salpeterkop Volcano
The following day's adventure was a hike to the Salpeterkop Volcano, which is now extinct as well as being the most southern and, presumably, the last volcano in South Africa's Northern Cape to have been active. We saw volcanic rocks covered in lichen, which thrives in areas where the air is completely pollution-free. We explored natural caves where the ancient Khoisan people once lived. The view from the top of Salpeterkop Volcano (1760m) is spectacular and shows just how vast and uninhabited this region is.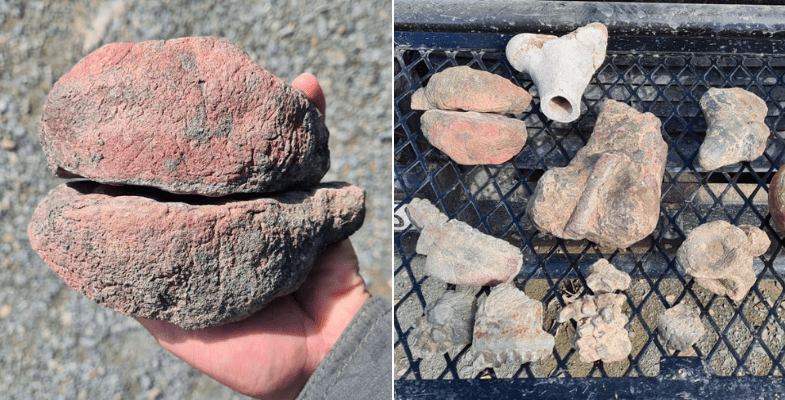 Rogge Cloof also produces its own wine, and we ended the day with a wine tasting session. The grapes for the red wines originate from vines of the Sutherland-Karoo region, and at 1500m above sea level, this is the coldest wine-producing region in South Africa. Rogge Cloof produces a continental style Syrah, a Syrah/Cabernet Sauvignon blend, a Chenin Blanc and my favourite, a crisp Chardonnay.
The Sutherland Dark Sky Reserve is South Africa's first and largest "Dark Sky Reserve", and Rogge Cloof has rightly earned the name "Star Plains". The night sky was the "star" of the show, with its endless twinkling stars that were so bright! I wish I could have stayed awake the whole night to watch the sky, but after a busy day, lots of fresh air, as well as good food and wine, I could not keep my eyes open any longer and fell asleep!
Tracking Cheetahs in the Reserve
Rogge Cloof also offers guided cheetah tracking; they have four cheetahs and three cubs. Our guides picked up the signal of one of the cheetahs (they are collared) on the way back from the Salpeter Volcano excursion, but unfortunately, we were not successful in finding her that day. We were all starving after our hike so eventually, our stomachs got the better of us, and we returned to Rogge Cloof for a late lunch. The estate also offers Fat Bikes — off-road bikes — and there are multiple gravel roads on the reserve where visitors can cycle. These are available to all visitors in all suite types.
This truly is a destination where you can leave behind your hectic modern lifestyle, enjoy true Karoo hospitality, wide-open spaces and reset the balance between body and mind!
Visit South Africa's Northern Cape: Sutherland & SALT
Before heading back to Cape Town, we visited the small town of Sutherland as well as SALT (Southern Africa Large Telescope). Perched on a hillock some 2 000m above sea level, SALT is the largest optical telescope in the southern hemisphere with 92 hexagonal mirrors and offers a unique perspective of the stellar system. It isn't surprising that many astronomy research centres worldwide have set up their telescopes here.
Written by: Robyn Leatherby
If you'd like to experience the beauty and vastness of South Africa's Northern Cape for yourself, get in touch.