Phinda Forest Lodge is one of the world's first eco-designed, luxury safari lodges and part of the andBeyond portfolio, a company known for sustainable travel to unique destinations that offer more than the typical luxury stay.
Located within the Phinda Private Game Reserve, an award-winning Big Five reserve in northern KwaZulu Nata's Zululand region, Phinda Forest Lodge is set in Africa's last remaining dry sand forest, an endangered forest type that supports endemic and rare animals and plants.
Recently I had the privilege of being tour leader for a VIP group, which was accommodated at the lodge, where our client had taken up exclusive use of this superior luxury property.
Exclusive accommodation
The lodge, comprising 16 secluded suites on stilts, was built by local artisans under a dense canopy of trees but without one damaged or removed. Glass walls invite the forest in while simultaneously offering expansive views of the surrounding natural environment. Effortlessly assimilated with nature, wildlife roam calmly outside and it is not unusual to enjoy game-viewing from the comfort of your bedroom or the spacious wooden deck.
The elegant interiors of the suites are Zulu inspired but with a minimalist approach, dubbed "Zulu Zen", featuring wooden floors, artefacts, the use of slate and neutral-tone fabrics, and the added touch of outdoor showers. Complimentary Wi-Fi and mini bar come standard. For those who like to stay active while on holiday, the lodge provides "gym-in-a-bag" allowing guests to work out in the privacy of their suites, while mobile spa treatments are also available.
At the main lodge, amenities include a rim-flow pool with views of a waterhole, a boma where guests are invited to dine by the fireside and under the stars, an expansive viewing deck, and a fine-dining restaurant and bar.
Unique activities
The programme we created for our VIP group was exciting and engaging with leisure time incorporated. After they expressed their preference for more activity and less leisure, we split the numbers into smaller groups to offer a variety of activities on a rotational basis.
Guided morning and evening game drives through 29 866 hectares (73 800 acres) of the Big Five reserve were a highlight and incorporated careful off-roading practices to allow for closer wildlife sightings.
A large population of cheetah and black rhino are also resident here along with a wide variety of other animals, including species endemic to KwaZulu-Natal. Guests are also able to tailor-make their own safaris with a private vehicle and guide.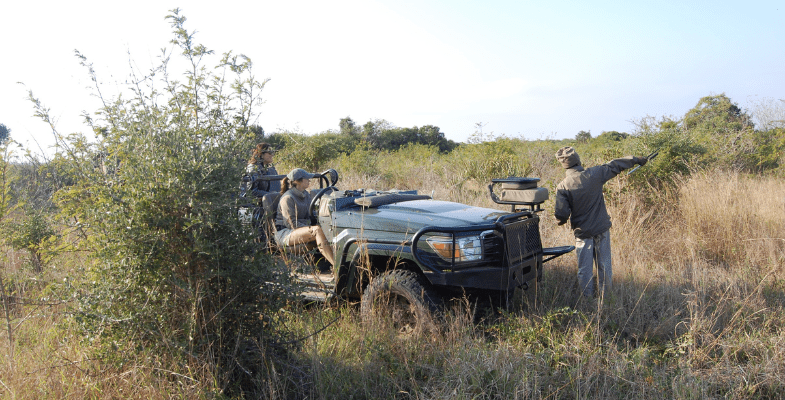 The reserve offers the unique privilege of tracking the rare and critically endangered black rhino on foot with a qualified ranger and expert tracker team, and this was also part of our programme. The absence of noise from the safari vehicle allows for heightened senses in the bush, and we discovered how to identify rhino middens, scratching posts, trampled grass and how to follow spoor – an enlightening and exhilarating experience.
Our group also took part in a bird conservation activity, entailing the netting of species not native to South Africa, recording their measurements and other biometric data, ringing them, and then releasing them. We were guided throughout the process by specialist birders, learning how, by later recapturing and releasing these birds, information is gathered about their migratory patterns, their life history, territory, among others.
While secluded and appearing remote, the lodge offers a range of adventure activities that lie just beyond the reserve, including an ocean safari on an inflatable vessel in Sodwana Bay, scuba diving, tracking turtles by moonlight to their nesting ground, and visiting a Zulu community.
A stay at Phinda Forest Lodge is an authentic, unique African safari immersion that appeals to every kind of guest, but especially those seeking to disconnect – and reconnect with nature.
Contact us if you'd like us to plan your next incentive trip to Phinda Forest Lodge or anywhere else in the world.