Are you looking for European summer destinations for 2023? Whether you're travelling for a work trip or leisure, the Sure GILTEDGE team shares their top picks for your travel to Europe. It's always worth adding a couple of days of leisure time onto your work trip, either before or after the business component, to discover all that Europe has to offer and make the most of the journey.
Thankfully, Europe is easily the most accessible continent for South Africans thanks to an ever-increasing list of airlines resuming pre-COVID routes and frequencies.
Portugal
If Portugal wasn't already on your radar, it will be now. The country scooped up the vast majority of the best travel destination awards in the prestigious World Travel Awards for 2022.
Portugal was nominated as:
'Europe's Leading Destination' – Portugal
'Europe's Leading Beach Destination' – the Algarve
'Leading City Destination' – Porto
'Leading City Break Destination' and 'Leading Seaside Metropolitan Destination' – Lisbon.
It's also reasonably rand-friendly and easily accessible from South Africa with several flight options.
While Lisbon is a crowd-pleaser, it's also worthwhile journeying north to Porto, the home of port wine. Porto is also the gateway to the scenic Douro River Valley, a UNESCO World Heritage site and Europe's most underrated wine region. It's a place of staggering natural beauty and a foodie's dream.
Top summer tip: Beach lovers can head to the Alentejo, the sun-kissed coast between the Algarve and Lisbon. This vast area is relatively sparsely populated, and even in the peak season, you can still find some peace and quiet and a corner of the beach to yourself!
Hungary
With all the attractions and appeal of an age-old European city but much more friendly to the South African rand, Hungary's capital, Budapest, is a must for South African travellers. The city is renowned for its architecture, and a wander through the streets or a river cruise on the Danube is the best way to soak up its rich history.
Top summer tip: Enjoy a swim of a slightly different variety with the locals in Budapest's famous thermal baths. 'Taking the waters' in romantic Budapest has been a tradition since the time of Roman rule. The Art Nouveau Gellért Baths feature stunning indoor swimming pools, and, in the summer, the outdoor water adventure area includes a wave pool. The Széchenyi Baths are also very popular.
Italy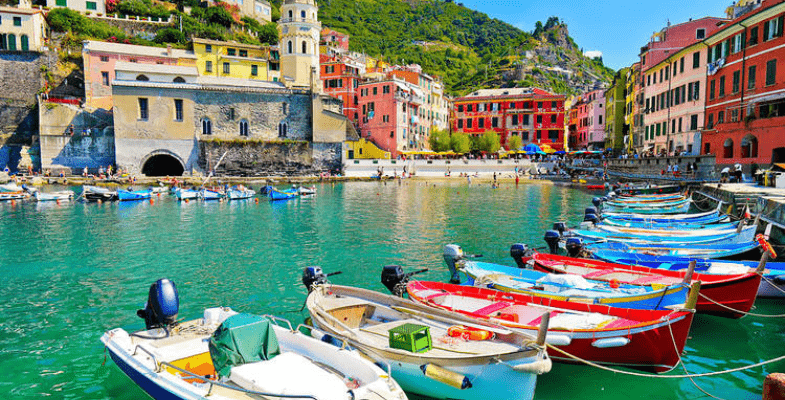 Without a doubt, Italy is one of the most beautiful countries in Europe. It's a bestseller for South Africans for good reason, and summer is one of the most magical times to enjoy la bella vita at its finest.
From the pastel-coloured houses that cling to the hillside of Italy's rugged Cinque Terre to the bougainvillea-splashed Amalfi coast, summer at the Italian seaside is dreamy. Laze the day away in a traditional trattoria feasting on fresh seafood or take to the seas for a lazy boat cruise, punctuated by ample swim stops.
Remember to get your culture fix in the cities. See gladiators and chariots at ancient Roman ruins, try not to fall overboard in a gondola in Venice, see the quirky Trulli houses and Bomarzo Monster Park and marvel at Renaissance masterpieces in Florence.
Top summer tip: Beat the heat with a few scoops of delicious gelato. Sample the staggering array of flavours while wandering around St Mark's Square in Venice or grab a spot on the Spanish Steps in Rome. Menta (mint), Stracciatella (vanilla chocolate chip), Nocciola (hazelnut) and Bacio (a chocolate and hazelnut concoction) are some of the most popular flavours.
If you're in Italy during the peak summer season, there's a clever way to avoid the crowds, especially when viewing some of the more popular attractions like the Colosseum – go after dark! Many of the attractions are actually even more stunning this way, lit up with hundreds of bright lights against the contrasting backdrop of the pitch-black night sky.
Turkey
The only city that can boast about being situated on two continents – Europe and Asia – Turkey's Istanbul has been a melting pot of cultures, people and history for thousands of years. Enjoy a river cruise on the Bosphorous, sip a cup of Turkish coffee and head out of the city to visit the fairytale 'Cotton Castle' of Pamukkale. Going hot air ballooning over the surreal landscape of Cappadocia is bound to be a highlight.
Top summer tip: Did you know that more than 500 islands and islets adorn Turkey's appropriately named Turquoise Coast? Hop on aboard a cruise or a gulet (traditional Turkish sailing vessel) and adjust to the rhythm of the sea, where the only priorities are deciding when to eat, nap and swim.
Georgia
Wander off the beaten track on an exciting trip to relatively unknown (at least to many South Africans) Georgia. Extending along the Northeast border of Turkey, intersecting Europe and Asia, Georgia and its neighbour Armenia are still relatively untouched by tourism.
Did you know that Georgia has a fascinating wine history? Here, wine has been made for centuries in clay Kvevri jars that are buried underground. South African wine lovers will feel quite at home tasting their way through Kakheti, the heart of Georgia's wine region.
Greece
Old meets new, and ancient meets modern in the land of gods and goddesses, philosophers and poets. The beautiful Greek Isles, historic Athens and rugged coastlines sheltering secret coves are made for summer holidays!
Greece is one of the world's most popular tourist destinations, and its reputation is well deserved. Look forward to dazzling turquoise waters, sunny weather, a rich history and ancient ruins, a well-established tourist industry and, of course, mouth-watering Greek food.
Top summer tip: While the summer season is simply magical, don't discount the shoulder season from March to early June and September to November.
Top tips for travel to Europe
Book as easily as possible. Book as soon as you have dates confirmed for the best pricing and first choice of dates, accommodation and other options. This is especially vital when travelling in the European summer – peak season. If your dates are slightly flexible, consider travelling in the shoulder seasons – generally just outside of June to August – when the weather is still relatively warm and balmy and prices offer more value for money.
Your Sure GILTEDGE travel advisor can advise on the best departure dates, options and itineraries. If they can take care of your business trip from start to finish, just see what they can do with your leisure time!
Visas, visas, visas. Unfortunately, this aspect of travel is unavoidable for many South Africans. Booking your trip as early as possible also ensures that you or your travel planner will have ample time to get your visas sorted. Note that there may be alternative or quicker visa options if you're travelling for business, too. Turn to the Sure GILTEDGE team for guidance.
Contact the Sure GILTEDGE team today to arrange your European summer travel for 2023 and beyond.