Our DMC and Sales section heads Charlotte and Lylie were lucky to spend a day at Babylonstoren. The farm is one of the oldest Cape Dutch farms, set at the foot of Simonberg in the Franschhoek wine valley, less than an hour's drive from Cape Town.
Known as one of the oldest Cape Dutch farms, it's home to large fruit and vegetable gardens, wine, livestock and accommodation. Here's what Charlotte had to say about her experience:
Stylish and simplicity are the words which immediately spring to mind when you visit Babylonstoren. Owner Karen Roos, ex-editor at Elle magazine's sense of style and sophistication is evident everywhere. Our grey morning started with an uplifting and interesting essential oils and soap making tour. Run daily on a Thursday for small groups; this gives one great insight into what the farm produces. Adjacent to the small factory, one can purchase all the delicious smelling products, creams, room sprays, lip & cuticle balm – Wild Fig was our favourite.
We also tried our hand at our own products. We made beautifully scented foot scrubs with enthusiastic tuition, using basic ingredients like olive oil, pink Himalayan salt, brown sugar, fresh herbs and Babylonstoren's own essential oils. I have since tried mine, and my feet have never felt so soft. Other DIY options include face masks and bath salts all with beautiful packaging for you to take home. These are not the only products produced here, Babylonstoren also bottles their own spring water, presses their own fruit juices and ages their own balsamic vinegar.
We then headed off with our gracious host and sales executive Rachael, to explore the farm's accommodation. Our first stop was the Farmhouse suites; there are 9 rooms (no kids allowed here), each with their own fireplaces, pairs of gumboots and mountain bikes for exploring. Next, we explored the Farm Hotel with a combination of 13 X 1,2 & 3 bedroom suites/cottages. A farm dam/swimming pool is nearby as well as feeding of donkeys, ducks and chickens to keep your children busy. Babysitting can also be arranged should you prefer a quiet evening out.
Located slightly further away from the main public areas are the 6 x 1 or 2 bedroom Fynbos Cottages. Elegantly styled with a minimalist Scandi feeling, each with their own bicycles and golf cart. These include fully equipped kitchens and you only have to pop down to the Farm shop, bakery, cheese room, charcuterie and wine shop to stock up.
The Manor House has 5 bedrooms for up to 10 guests. All rates include breakfast, full access to the gardens at all times as well as the many activities on the farm: private guided farm walk & garden tour, mountain drive, harvest tour, bread baking, cellar tour & wine tasting, cycling, canoeing, fishing, laundry and an in-room larder.
Other activities include spa treatments, private yoga sessions, scented room and special collections garden tour (succulents, clivias, cycads). Currently under construction are day-use facilities to cater to either early check-in or late check-out and the use of showers to freshen up. An exciting new addition is the Family House which will have 5 bedrooms and its own swimming pool, ideal for groups of friends or families.
We ended our busy morning with a magnificent lunch at Babel Restaurant, housed in an old cowshed and now a mix of Cape Dutch and contemporary architecture. Dishes bursting with flavours and colours, most ingredients are sourced from the farm. Begin with "introduction" a selection of green, red, yellow starters (can also be served as mains) – I chose delicately smoked trout whilst Lylie enjoyed tasty prawns, "progression" to various main dishes, risotto, fish, chicken, meat and "completion" of sweet, bitter, sour desserts.
All courses have a suggested wine pairing option, but we chose their very refreshing local "Bitterlekker" cordial mixed with sparkling water – perfect on a warm summer's day. There is also a tea ritual for those with more time. Additional dining options include The Bakery (selected evenings), The Greenhouse and Spice Garden. Babylonstoren also hosts events, functions and weddings. We had one final stop of course, for some retail therapy and to stock up on fresh produce to take home, tender artichokes, delicious hamburger patties, a selection of vegetables and even chocolate yoghurt!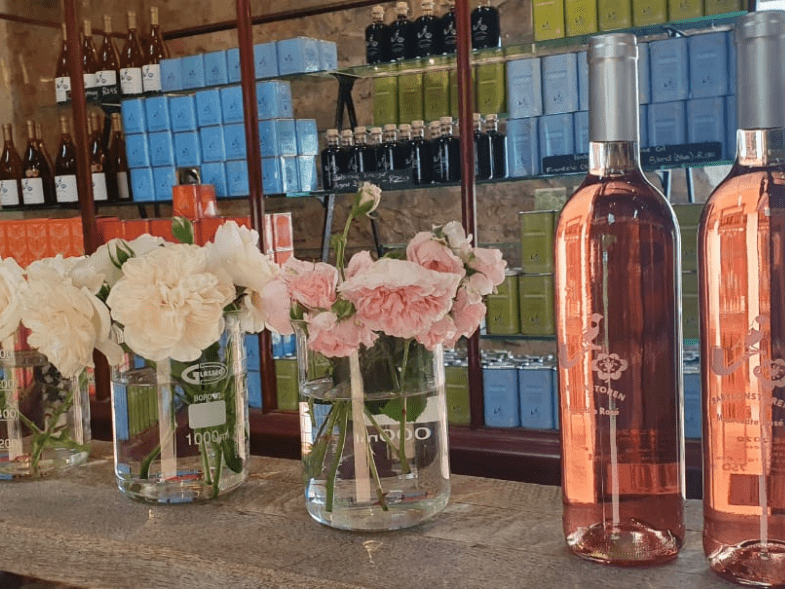 Babylonstoren really is a one-stop destination with so much to see and do. We highly recommend a visit and will definitely be back to explore more.
By Charlotte Smith
Find out more about Babylonstoren or get in touch with us to start planning your Cape Winelands holiday.