Lylie, our Head of Sales at Giltedge, recently hosted a familiarisation trip through the length and breadth of South Africa. Travelling during Covid means more admin, so we were excited to chat with her to find out how it went.
Lylie, who did you travel with?
I travelled in a secure "bubble" of 5 people as I was joined by 4 travel agents from the United States, specifically, Texas, Indianapolis, and Seattle. For three of the agents, this was their first time in South Africa, so it was wonderful to see our country through their eyes. We completed our Covid-19 tests before arrival and felt safe to travel in our bubble.
What activities did you get up to while in Cape Town?
The Cape Sidecars' tour in Cape Town was a highlight! Each chauffeured sidecar can take 2 guests: one behind the driver and one in the sidecar. I would recommend booking at least 2 hours to a half-day for this activity, and, if possible, ask for Brody the rescue dog to join you! He gets lots of attention and loves every minute.
Our activities also included time spent at Cape Point where Escape & Explore set up an activity area with stand-up paddleboards, beach umbrellas, bats and balls and a delicious picnic!

Tintswalo Boulders is a new property. What's it like?

What a treat! Tintswalo Boulders is located above Boulders Beach with easy access directly from the property to the famous penguin colony. The villa is elegant with large rooms and beautiful interiors, and each of the 9 suites is  named after a naval ship. They're equipped for families with a play area called "The Penguin Room" as well as comfy beanbags and a TV for kids.
The villa would also work well for couples as each suite can be individually booked with plenty of areas to relax. Additionally, Tintswalo Boulders in Simon's Town can be booked as an exclusive-use property – perfect for any celebration! A multi-generational family can make use of the entire property … and there would be a slice of heaven for each of them.
Lastly, perched on the top floor of the property, with exceptional views, is the infinity pool. This is the perfect spot to relax after a day of sightseeing. Simon's Town offers fantastic views over False Bay where you can see Southern Right Whales, the rare Brydes Whale, and Humpback Whales frolicking in the ocean. Orcas and sperm whales can also be spotted although they're not as prolific on this coastline.

Next on your itinerary, you travelled to the Cape Winelands. Any highlights?

The weather was perfect for a visit to this unique wine farm, Babylonstoren. With plenty of accommodation and experiential offerings, it is an ideal spot for a few nights' stay or just a day's outing.
We loved the Spice Room: a great space for a private lunch or dinner for a small group. The menu is authentic, with many spice infusions and ingredients from the farm's garden. We also visited the soap-making barn that's filled with beautiful scents, creams, candles, gifts and local soaps.
What was your stay at Leeu Estates in Franschhoek like?
Arriving at Leeu Estates was breathtaking. The sculpture garden is exquisite with views over the vast and beautiful Franschhoek valley. We had a delightful dinner in the town that night. And we all agreed, it was by far the most delicious food we had throughout the entire trip.
From there you travelled to Stellenbosch. Tell us about it!
We spent the day in the capable hands of Escape & Explore's experienced guides, Joshua and Marcus. They had a few surprises up their sleeves, including brewing local teas and coffee at the Mount Rochelle hiking area overlooking the Franschhoek Valley. We were then whisked off to the Dylan Lewis Sculpture Garden, where we spent a couple of hours on a guided tour of the unique sculptures. A serene and tranquil environment to spend our morning!
The afternoon brought us fun and different experience at Muratie Wine Farm. Steeped in history, this wine farm was filled with wonderful stories of all the characters on the farm, after whom the wines are named. For those looking for an authentic offering, this is it!
Afterwards, we ended up at Lanzarac Wine Farm where the highlights were the beautiful bathrooms and underfloor heating. A fun-filled evening was had at the Taphuis, a mix of wonderful South African flavours and delights. We even got to experience "skaapsterkies" – a local delicacy of sheep's tails.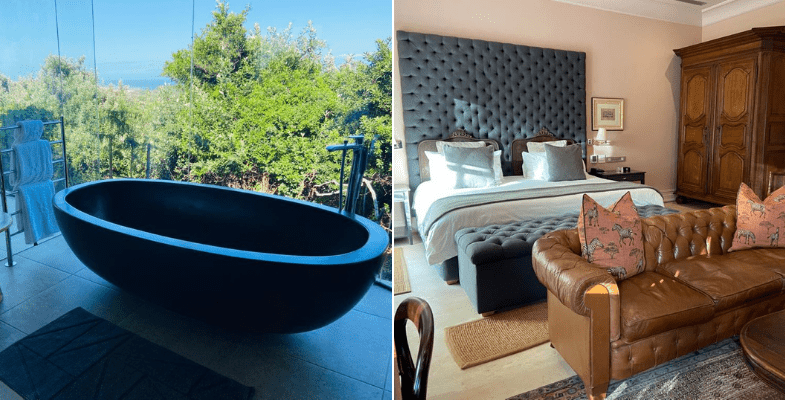 Next, you travelled to the Eastern Cape's coastline. How did you get there?
The next part of our trip included a flight from Cape Town to Port Elizabeth, which was very quick and easy, from check-in to Covid protocols and beyond. We were met by Pembury Tours, our transport supplier in the Eastern Cape, as we came out of arrivals. It took about 2 hours to drive through Eastern Cape farmlands.
What was your stay at Oceana Beach & Wildlife Reserve by Mantis like?
Oceana Beach & Wildlife Reserve was a breath of fresh air. Its location is ideal, overlooking the wild beaches and vegetation of the Eastern Cape. The new Pool Suites are world-class, with floor-to-ceiling windows that allow for incredible views. Monkeys and giraffes are regular visitors in front of the room. One of the highlights was the beach's picnic: delicious food and wine overlooking the sand dunes.
Was there a stand-out moment during your time at Shamwari Game Reserve?
The new interiors! Long Lee Manor has been renovated and we were blown away by the quality of the interiors. We also loved the new boma area with its contemporary feel and unique setting. The tapas concept around the pool cabanas was just beautiful, overlooking a waterhole.
Sabi Sands is famous for its exclusive safaris and big cats. Did you have amazing sightings?
Incredible … within the first 5 mins of our first game drive at Dulini River Lodge, we came across a leopard kill. Both the dead impala and the leopard were up a tree with a clan or "cackle" of a hyena circling the base, waiting for any snippets that might fall from above.
In the 2 days we were there, we had over 5 leopard sightings (one of which was a little too close to us while we had sundowners so we jumped back in the vehicle).
We came across an active pride of lions one evening, which were on the hunt. Being part of the action was exhilarating!
The best sighting for me, was a cheetah perched upon an anthill. A rare and beautiful sighting!
What was Dulini River Lodge in the Sabi Sands like?
The lodge has the perfect mix of neutral colours and tones together with rustic elements. The suites are spacious, with decks and infinity pools in each one. The cream linens and screed floors create a serene flow, and the wooden elements again bring in a more natural feel.
But it's the people at Dulini that makes special. From the owners, Iain and Sue to the Chef Altus and game ranger Morah, to name a few, you will leave here with fantastic memories! I would highly recommend the picnic boxes … revealed one at a time. The anticipation of what is in each picnic box is a fun and inspirational way to dine.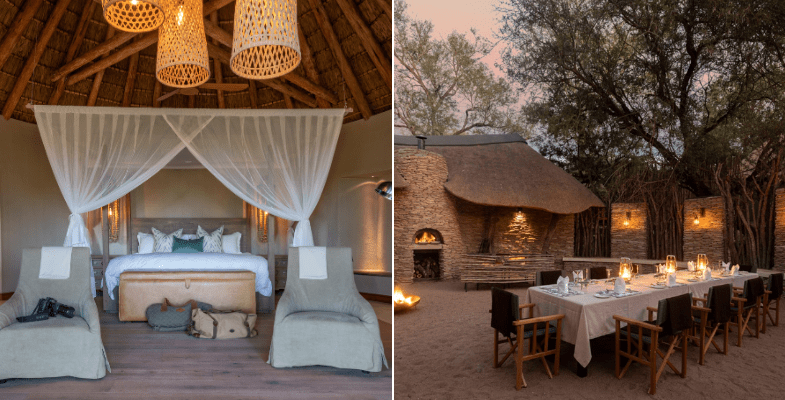 Finally, you spent your last 2 nights at Manyeleti Game Reserve that borders the Kruger and Sabi Sands. How does this game reserve compare to others?
The game reserve itself is vast, with only a few lodges scattered around the reserve giving visitors exclusivity and privacy. The terrain felt more open with many water holes and "koppies". Due to the size of the reserve, one does not get to see as many sightings in a day, but you really do feel the adrenaline pumping as you seek out the game. The area around the lodge was far more "foresty" with lots of trees. With that came quite a bit of game activity in and around the lodge. The birdlife was prolific, and we had baboons, elephant, leopard, and antelope all visiting us at some point at the lodge.
What type of client would love a stay at Tintswalo Safari Lodge in the Manyeleti Game Reserve?
The lodge has an "out of Africa" feel to it, so far more colonial in style. Each suite is named after an explorer with interiors and ornaments that reflect that particular explorer. This lodge could appeal to many clients, including your more mature couples to multi-generational families, due to the accommodation styles available such as the exclusive-use property.
Lylie, any final comments?
It was incredible to be out and about again, seeing what properties have done during the lockdown and how they have prepared for the future. The beauty of South Africa is breathtaking!
Find out more about safaris in South Africa or get in touch with us to start planning your South African safari.