Sunrises over the savannah and sunsets over the sea — wildlife and beach safari getaways for friends bring together the best of all worlds. Share meaningful experiences you will never forget, from spending time with mountain gorillas deep in Rwanda's forests, floating on canoe rides on the Okavango Delta, to sipping cocktails on the powdery white sands of Seychelles' beaches. The best part? By supporting tourism in these African wildlife destinations, you are supporting their communities and conservation too. Don't go on a holiday, go on an adventure of a lifetime with your besties.
These are eight of the best destinations for safaris for friends and beachy girls' getaways.
1. Nairobi, Kenya
Undoubtedly, Kenya's wildlife parks and reserves are its main attraction, but Nairobi is an incredible starting point for your journey into the wild. Its bustling streets and CBD contrast with its natural, open spaces like Nairobi National Park, the world's only urban game reserve, and Karura Forest, where you will find the city's dogwalkers, cyclists and beautiful waterfalls. It's an ideal city to discover with friends — shop at colourful markets, share a heartwarming experience at the Sheldrick Elephant Orphanage and discover vibrant art made from recycled flip-flops at Ocean Sole Marula Studios. In the evening, experience Nairobi's lively nightlife and celebrate together with dancing and cocktails.
Fair Trade Kenya Safari & Beach
Begin your journey in Nairobi, then set off to Campi ya Kanzi in Chyulu Hills National Park, a Maasai community-run luxury eco-lodge. On day five, fly to Cottar's 1920s Camp in a private concession of the Masai Mara. Spend the last four nights by the turquoise waters and white sands of Watamu at Medina Palms.
https://giltedge.travel/tour/fair-trade-kenya-safari-beach/
Why we love it for girls' getaways: Campi ya Kanzi offers a gorgeous private villa (one of only a few available to rent in Kenya) which is ideal for groups. All accommodation is eco-friendly and Fair Trade accredited.
2. Okavango Delta, Botswana
One of the earth's largest inland deltas and a UNESCO World Heritage Site, the Okavango Delta is a wildlife-rich oasis in the Kalahari Desert. It has the highest density of elephants in the world and the area's limits on the number of tourists it accepts— only 36 people are allowed on safari at a time in the private concessions — guarantee uninterrupted views of the wildlife. Floating silently through waterlilies in a mokoro, a traditional canoe, as you move through the flooded plains of the delta is one of the most unique experiences you could share with friends.
Botswana to Seychelles Escape
Begin your adventure in the abundant wildlife of the Linyanti Concession at Wilderness King's Pool premier camp for three nights, then move on to the Okavango Delta, staying at the luxurious Wilderness Vumbura Plains. From there, fly to Johannesburg for one night, then fly to North Island, a private island in the Seychelles, for beach time in the middle of lush rainforest.
https://giltedge.travel/tour/botswana-seychelles-escape/
Why we love it for girls' getaways: it's an escape from civilisation where you can spend meaningful time in the middle of nature with your besties, but the meaning doesn't end there — the Vumbura Private Wilderness Area supports local communities and conservation, so in choosing this destination for your holiday, you and your closest friends will be giving back too.
3. Mahé Island, Seychelles
Mahé is the biggest island in the Seychelles but it is small enough that you can ride around it on bicycles, beach hopping and taking in the sights. It has so many unique natural gems to admire, like the Jellyfish Tree, of which there are only eight in the world. This tropical island in the Indian Ocean is also famous for its smooth, large boulders that accentuate the white sand beaches. Explore Victoria, its tiny, 20km2 capital city, sampling delicious Creole dishes and visit the giant tortoises and lush orchids in the Botanical Gardens. The activities are as relaxing as they are fun and ideal for girls' getaways.
City, Safari & Seychelles Island Bliss
Start in South Africa, spending four nights in Cape Town at the five-star Cape Cadogan Boutique Hotel and three nights in the exclusive Sabi Sand Private Game Reserve on the border of the Kruger National Park. Head to vibey Johannesburg for one night, then fly to the luxurious Four Seasons Resort Seychelles and enjoy the last four nights in tropical bliss.
https://giltedge.travel/tour/city-safari-seychelles-island-bliss/
Why we love it for girls' getaways: The Four Seasons Resort Seychelles has several private residence villas, ranging from two to seven-bedroom villas, all with private pools and exceptional Indian Ocean views.
4. AndBeyond Phinda Private Game Reserve, South Africa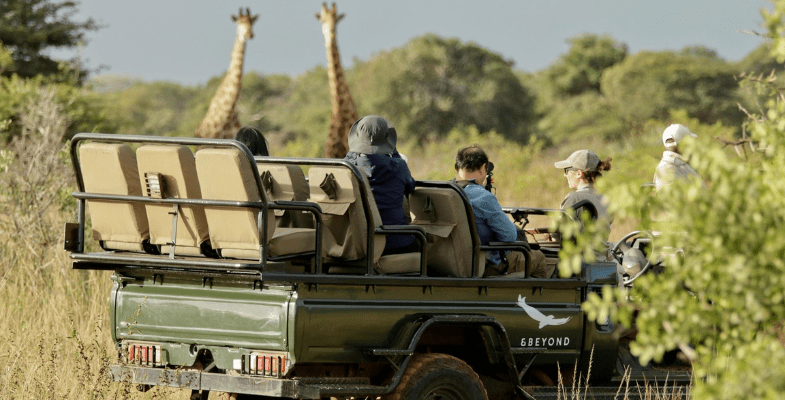 Known for 'the seven worlds of wonder', this exclusive private game reserve protects seven distinct ecosystems, including wetlands, mountains and the rare dry sand forest. It offers an incredible diversity of wildlife, emphasising the conservation of vulnerable species like the Red Duiker (a small antelope), rhino and pangolin. The safari experience at this reserve is remarkable, as its proximity to the Indian Ocean means that you can go whale watching, see turtles nesting and spot the Big 5. You can also engage with locals and learn more about building sustainable futures for the environment and communities.
Kwazulu Natal Bush & Beach Self Drive
Start your journey in the uKhahlamba Drakensberg Mountains, staying at Cleopatra Mountain Farmhouse for two nights, then drive to Umhlanga on the Dolphin Coast, where you will stop over for two nights at The Oyster Box five-star hotel. Head to AndBeyond Phinda Private Game Reserve for three nights and end your holiday at Thonga Beach Lodge in the Maputaland Marine Protected Area.
https://giltedge.travel/tour/kwazulu-natal-bush-beach-self-drive/
Why we love it for girls' getaways: a road trip of a lifetime, this tour encompasses some of South Africa's best landscapes and wildlife, from dramatic mountain ranges to pristine beaches and exclusive game reserves.
5. Volcanoes National Park, Rwanda
Hiking through emerald-green rainforest to meet a family of gorillas is not an everyday occurrence. Especially the critically endangered mountain gorilla, whose numbers are limited to around 1000 in the world. Volcanoes National Park is one of a handful of places that offer this rare opportunity. Their treks bring you meters from mountain gorillas and endangered golden monkeys, safely allowing you to observe them in their natural habitat. They also help fund and raise awareness for the conservation of these remarkable primates. Elevate your girls' getaway to a once-in-a-lifetime trek that has a positive impact.
Rwanda & Seychelles Escape
Relax at The Retreat by Heaven boutique hotel (favoured by King Charles) in Kigali for one night, then travel to Akagera National Park and stay on the shores of Lake Rwanyakazinga at Wildnerss Magashi. The next leg of your journey is in Volcanoes National Park, where you will stay for three nights at Wilderness Bisate. Head to Kenya for a sleepover at the Crowne Plaza Nairobi, then fly to Mahé Island to spend the rest of your holiday in tropical style at The Four Seasons Resort Seychelles.
https://giltedge.travel/tour/rwanda-seychelles-escape/
Why we love it for girls' getaways: Wilderness Bisate provides next-level exclusivity with only six luxury thatched villas. It is ideally located close to Park Headquarters, where you begin your gorilla trek.
6. The Maldives
Privacy, crystal clear lagoons and exclusive islands summarise the Maldives. A collection of 1,192 coral islands and islets seemingly far from civilisation, it is the ideal place to unwind and enjoy the company of good friends. Activities such as snorkelling, scuba diving, and various water sports offer plenty of ways to make the most of the beautiful surroundings, while the range of beachside restaurants, cafés and bars provide plenty of options for a fun night out.
East Africa and Island Adventure in Tanzania & Maldives
Start your epic girls' getaway at Legendary Lodge in Arusha, Tanzania, then travel to Singita Faru Faru Lodge and Singita Sabora Tented Camp in Singita Serengeti Grumeti for five safari-filled days. Spend your last five nights at Raffles Maldives Meradhoo Resort.
Why we love it for girls' getaways: Raffles Maldives Meradhoo Resort's exclusive use villa — the Royal Residence — accommodates up to 15 people in absolute luxury. It has its own lounge, kitchen, dining room and 40-meter pool. It also provides fully catered BBQs and pool and dinner parties where you can invite other guests.
7. Singita Serengeti Grumeti, Tanzania
Share one of the most iconic wildlife experiences on the planet – The Great Migration. 1.5 million Wildebeest travel to greener pastures in search of food across Tanzania and Kenya, bringing with them thousands of zebras and antelope. The wildlife action is fierce as predators like crocodiles and lions take the opportunity to feast. Singita Serengeti Grumeti Game Reserve sits on the border of the famous Serengeti National Park. It offers the chance to see this bucket-list wildlife spectacle, ensuring a more authentic and meaningful safari experience.
Tanzania Migration & Island
Arrive at Kilimanjaro Airport and spend one night at Elewana Arusha Coffee Lodge. Travel to Ngorongoro Conservation Area and its magnificent crater, staying at andBeyond Ngorongoro Crater Lodge for two nights. Serengeti Grumeti is up next on the itinerary, where you will stay at Singita Faru Faru Lodge for two nights. You end off your holiday on the white beaches of Zanzibar at Elewana Kilindi Zanzibar.
https://giltedge.travel/tour/12-days-tanzania-safari-zanzibar-island/
Why we love it for girls' getaways: Sharing a bucket-list wildlife experience together will make it even more meaningful, and sunbathing on the beach by turquoise waters in Zanzibar is the perfect ending.
8. Bazaruto Archipelago, Mozambique
 Comprising five barely inhabited islands in the middle of the Bazaruto Marine National Park, the Bazaruto Archipelago is the image of remote beach bliss. Its turquoise waters are home to whales, dolphins, turtles and teeming coral reefs. It is also one of the few places in the world where dugongs (sea cows) can be found. Days here are filled with sunbathing, snorkelling, exceptional seafood and traditional wooden dhow cruises — activities that are ideal to do with friends.
Safari, Beach & City Lights
Start in Cape Town at the five-star Cape Grace hotel at the Victoria & Alfred Waterfront. After three days of taking in the sights of South Africa's Mother City, fly to Sabi Sand Private Game Reserve and spend three nights at Ulusaba, Sir Richard Branson's Private Game Reserve. Spend the next five nights of your safari journey on the pristine beaches of Mozambique, in the Bazaruto Archipelago, where you can enjoy ocean safaris at Anantara Bazaruto Island Resort & Spa, then fly to Johannesburg for your last night.
Why we love it for girls' getaways: You can party together in two of South Africa's best cities and enjoy the peace and quiet of the bush and the beach.
Whether you're considering a massive holiday splash or simply looking to reconnect with your friends, our team is here to help make it happen, just the way you've imagined it. Get in touch here.