Although I've visited Babylonstoren many times as a day visitor, staying in one of the hotel rooms allowed me to see the working farm in a totally different light. We started our stay with an evening sundowner drive up the Simonsberg mountain. Guided by the knowledgeable Nina, this experience gave us a bird's eye view of the entire farm. With a surprise stop for a glass of Babylon's Candide, we were mesmerised by how big this farm is and how diverse its crops are.
From lavender fields to rows of rose geranium, this piece of heaven produces a huge variety of produce, abundantly. Once we had our bearings, we took full advantage of areas kept for hotel guests. With your room comes bicycles, the perfect vehicle to explore the farm with. We chose to cycle to the Babylonstoren koppie and then to hike up to the top of this iconic hill. Again, an activity that only in-house guests can enjoy.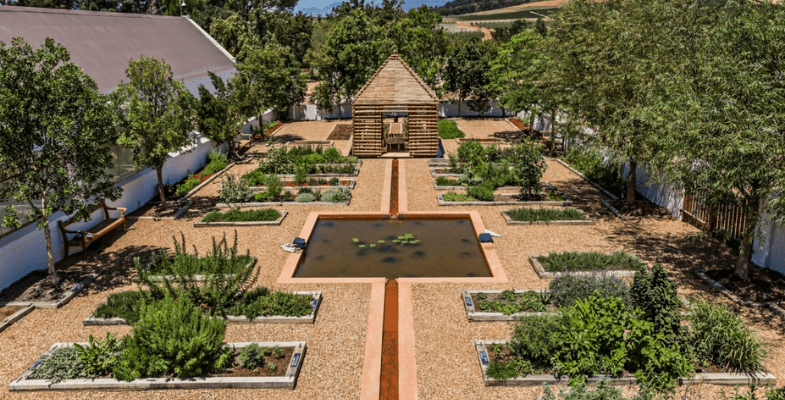 Much to our delight, we passed a field with Chianina grazing happily. These cattle are the largest cattle breed in the world! Gentle giants who seemed completely un-phased by the passing traffic! Another activity available for guests is canoeing and fishing on the dam. We thoroughly enjoyed an afternoon on the water with the impressive Simonsberg Mountain as our backdrop!
Baking bread in the bakery also kept us busy and well-fed as we enjoyed our homemade spring onion and cheese ciabatta as well as a garlic boule for lunch in our room. Dipped in the farm's olive oil and balsamic vinegar, it was the perfect lunch! Of course, we dined at the well-known Babel (an indulgence of fresh farm produce). We love how they colour code their dishes to suit the produce used. I enjoyed the yellow plate which consisted of roasted heirloom carrots served with buffalo yoghurt and carrot top purée! This farm to fork dining experience is a delight for all senses.
We stayed in the garden cottages. What I really loved about these rooms is that they are adjacent to the garden which made it so easy for us to pop out before and after the public are allowed in. Stepping out of our room and into the main garden to see the abundance of fruit, vegetables and herbs growing Is such a treat.
We were shown the new wing of rooms called the Fynbos Cottages. These are slightly more removed from the public spaces and main garden, so getting around requires a golf cart. But because these rooms are further afield, the peace that Babylonstoren emanates is really tangible in this area. No matter where you are on this farm, you are greeted with a friendly staff member and farm-fresh deliciousness! Liesl took us on a farm walk one morning. Her knowledge of the farm is incredible.
A stay at Babylonstoren is a breath of fresh air! You fall asleep to the sound of owls and wake to the sound of chickens! This Cape Dutch farm oozes wellness and comes highly recommended.
By Bridget Gardiner
Photos by Bridget Gardiner and Babylonstoren
Get in touch with us to start planning your Cape Winelands holiday.