Recently, Lisa and Rehana were invited to explore the Garden Route, discovering Knysna, the Kariega Game Reserve and Plettenberg Bay. Let's hear their story.
A road trip always comes with a great sense of anticipation. That feeling of the road ahead and troubles left behind. The inherent human desire to explore is tangible.
After more than a year of limited travel and strict lockdowns, Rehana and I set off with all these feelings and more.  I said, "I'll drive if you pick the playlist." To our happy surprise, it transpired that we have a shared love of great rock 'n roll – from Highway to Hell to Stairway to Heaven, we played them all.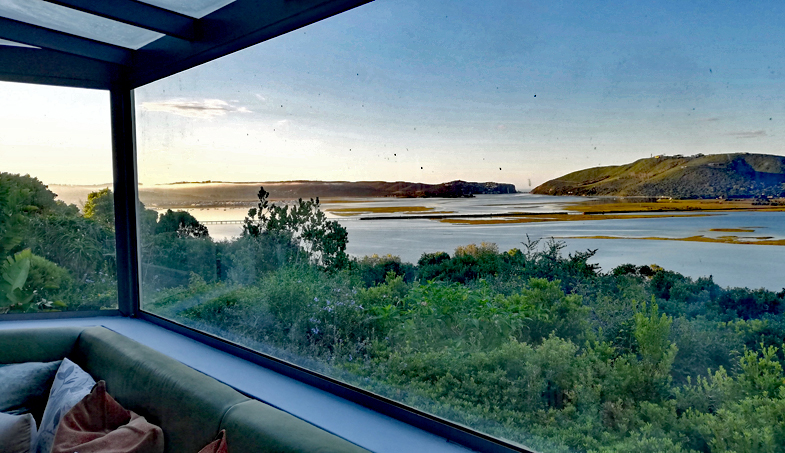 Explore the Garden Route: Knysna
Our first stop on our journey to explore the Garden Route felt a bit like heaven. As you wind into Knysna, Kanonkop Guesthouse is snuggled into a lush garden high up on the hill overlooking the most breathtaking views across the Knysna Lagoon and the Knysna Heads. Sunset turned everything pink and gold, and we watched from the lounge absolutely mesmerised, sipping on a glass of red wine next to a gently glowing fire. The evening was chilly, so we headed off to our respective rooms to get a good night's rest lulled to sleep by the gentle sounds of silence.
The next morning, we were up early to explore the property. It is a haven of tranquillity, full of welcoming warmth from the team and overflowing with natural beauty. Kanonkop House makes a perfect base to explore the Garden Route with Plettenberg Bay, Tsitsikamma National Park, Sedgefield, Wilderness and so much more all within easy access.
Kariega Game Reserve
About 400 kilometres east of Knysna, close to Kenton-on-Sea, lies Kariega Game Reserve, the next stop on our journey to explore the Garden Route. It is a longish drive, but the road is in great condition and the scenery provides a constant feast for your eyes, making the drive feel quick.
We arrived at Settlers Drift Lodge in the early afternoon and were welcomed with cool wet towels to clean off the dust of the road, a refreshing iced tea and the broad happy smiles of the team. For people who thrive on making other people feel welcome COVID has been like a dry desert. So, with a lodge full of guests, the team was bubbling over.
While Rehana and I tucked into high tea – which is so much more than that name suggests, let's just call it lunch – Jo, the lodge manager chatted about Kariega, and how Settlers, the five-star jewel in the Kariega crown, came to be. In her voice, even more than her words, we could hear the deep love she has for the place, the people and the wonderful conservation work that the reserve does. We sat in dappled sunlight gazing over the river and the sweeping valley below us and I was reminded again of what a privilege it is to be able to experience these magnificent wild spaces.
We were shown to our tents to relax and refresh before dinner. The tents are spacious and beautifully appointed with all the five-star luxuries and special touches. I was torn between just sinking into the very inviting king-sized bed and skipping dinner – but my appetite won (I blame it on all the fresh air).
Explore the Garden Route: Game Drives at Kariega
The next morning, we were up and on a game drive at the crack of dawn feeling very grateful for the blankets on the game vehicle. Kariega has a lot to see: rhino, lion, giraffe, elephant, hippo and birds, birds, birds! My highlight was our elephant sighting.
We came across a breeding herd and our guide, Talent, positioned the vehicle at a distance from them in line with their route so that they would walk past us. With that slow, measured walk of the majestic African elephant, they made their way toward us but instead of keeping their distance, their passage brought them right alongside our vehicle and as they passed, each elephant had a good look at us with interest and intelligence in their beautiful eyes. It made me wonder who was looking at who – perhaps they were people watching?
Meals at Kariega were just dreamy. My plant-based dietary request was met with flair and creativity. I was impressed because I know, from experience, that not many places can get that right but Kariega's chef and his team nailed it.
A night in Plettenberg Bay
Two blissful nights at Kariega and we had to tear ourselves away and back on the road. Our journey to explore the Garden Route was nearly over.
We backtracked to Plettenberg Bay for an overnight stop at Bayview Hotel. The fresh, bright rooms with their stunning sea views made us feel refreshed after hours on the road. We dropped our bags and headed out for burgers at The Lookout Deck. I mean, you have to go to The Lookout Deck when you're in Plett, right?
The next morning, we headed to Adi's Kitchen and the staff who had only met us briefly the afternoon before all remembered our names. It's these little things that matter when it comes to making patrons feel welcome. After a breakfast worthy of a road trip, we set off.
Rehana drove and I chose the playlist…
Written by Lisa Griggs
Would you love to go to the Garden Route?  Drop us a message to start planning your South African adventure.